Ted's Folly
History of Ebenezer Church Talbot Green
It all started in Bournemouth in 1938 when I was a young man of 23. Having finished a three year contract in Essex, work was very hard to get.
I was offered a job on a block of flats in Sea Road, Boscombe (near Bournemouth) on condition that I paid my own expenses to get there - this I did. My lodgings were with a lady who came from Wales. On Sunday afternoons a young lady by the name of Mary came to enjoy a break from work. Her home was in Brynsadler, a small village in Wales. Now Mary had the most beautiful head of hair I had ever seen, and I soon discovered that she was a little different from other girls that I had known. She was a Christian. Up until now my own Christian experience was nil - apart from being baptised in a church as an infant, that was all. My 'church' was the public house as my parents were publicans. It took me a very long time to persuade Mary even to come for a walk. We became friends and everything was so different about her. When things began to get serious, it was pointed out to me that our ways were so different - I would not go to church with her, and she would not join me in a public house. She wrote to me to remind me of the verses in scripture:
"How can two walk together unless they be in agreement?" Amos 3:3
"Be not unequally yoked together with unbelievers" 2 Cor 6:14
We would have to separate and go our different ways. This, I'm afraid really woke me up!!
Soon after that shock, I met a young christian named Tom Shurmer who one Monday night in his own home pointed me to Christ - there and then accepted the Lord into my heart and life. I can't tell you what happened, but from that moment my whole life was completely changed. I was baptised at Drummond Hall in Boscombe, but then my work in Boscombe finished so I had to return to London. Mary returned to Wales following the death of her father. War came and I found myself in full-time A.R.P. service. Now we were separated from one another by many miles, but the Lord had other ideas.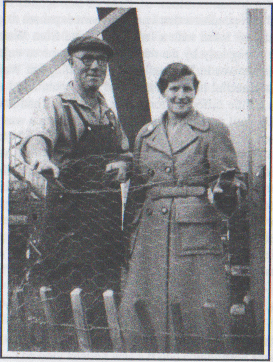 My christian faith was growing, also my love for Mary so the Lord brought us together in an unusual way. Whilst on A.R.P. duty at night I was rushed to hospital with appendicitis. I was operated on straight away, then immediately moved to the country because of the war. When I was discharged on Christmas day Mary had a brainwave - why not go to her home in Wales for convalescence - so I did. The joke was my convalescence lasted for over forty years, because I never went back to London. I then found work with the local council as a plumber and stayed in that job for 25 years. I was twice called up for war service but failed the medical, and also my job on the water board kept me home. Mary and I were married in January 1942 at Tabor Baptist, Llantrisant. We had four children: Paul, Rachel, Peter and Helen (She was born 15 years after Peter, so she's the baby of the family).
What has this to do with Ebenezer Church?
Good question, now we can get on with how it all came about. After the war, the council began to build prefabs and houses around Talbot Green and Llantrisant. My work at this time was helping to lay new water mains on these sites, so I knew what was going on in the area. The Lord had laid on my heart the need for a Sunday School as the nearest church was a long way away. Having looked around for a suitable place to hold a Sunday School, the only place available was the nissen but used by the local athletic club. An appeal was made and I was granted the use of the but on a Sunday. Rev Ellison, a very dear friend who had worked among Jews in Cardiff, offered to visit around the area and on the first Sunday morning we had 67 children - a good sign from the Lord!! Each Saturday afternoon we had to clean the nissen but out ready for use on Sunday as the local football club used it as a dressing room. The only heating was a round combustion stove which more often than not belched forth smoke. As each Sunday came along our numbers grew until we reached about 100 children of all ages. Not being able to hold classes we had one big class altogether. They were very happy days. Mary and I found a text from the alphabet beginning with the letter A and went right through to the end. Each week saw a new text being taught. One of the interesting ways we found of teaching the children the books of the Bible was by having Sword Drill. This consisted of the children using their Bibles to find a chapter and verse that was shouted out, the first to find the verse won a point. They soon found out where different books of the Bible were. Choruses were taught and sung well, and soon we were able toget hymn sheets. By now some of the mothers were interested, so outings were arranged to the seaside. We had a few helpers, who were a great blessing. When we had parties for the children at Christmas the Methodist Chapel loaned us their big hall at Southgate. The mins of the chapel are still standing and it holds many wonderful memories. As time went by the question of an evening meeting came up, so an evening service began. Next, what about a better place? Can't we get a church? You can imagine our feeling. Here we were, a big Sunday School, an evening service, but no finances to build a church. What were we going to do? Looking around the local area no suitable place could be found. Much prayer was made and the Lord answered our prayers. Mr Williams, who owned the Llantrisant Motors, (the garage is still there at the back of Ebenezer) offered to sell us a piece of land for £156.00 but told us we would have to get permission to build from the Llantrisant Council. The plan was submitted and permission was refused. Mr Isaac, the deputy surveyor offered to draw more plans for me at no charge - how grateful I was for his help. Once again these plans were submitted and AMEN!!! they passed!. The money for the land came in very small donations - people would stop me in the street and five or ten shillings were pressed into my hand. The children collected ship half pennies until enough money was collected to pay for the land (I still have a book in which I listed the different monies that came in). I must tell you that we very nearly didn't get our piece of land. It just goes to show how the Lord was in it all. The day that I was to see Mr Williams about buying the land, he had collapsed at the trial of his son in Swansea Crown Court and died. His son had had an accident with his car and killed someone. Unfortunately he was an alcoholic and had to go to hospital for treatment. My chance of getting the land had gone - or so I thought, but the Lord still had his plan for Ebenezer in mind. The son was nursed back to health by a nurse who he later married. Sadly he died not long after, but his wife, who now owned the land kept the promise made to me by her late father-in-law and sold the land to us. At last, we owned a plot of land, the plans had been passed, but where was the money to build to come from? We had no society behind us to get finance and my own funds were low as I had a family with three children to support. BUT my faith in our Great God was stronger now than ever, so after much prayer, the answer came.
The brewery in Brynsadler was being knocked down. Billy Alford from the village had bought all the bricks so a bargain was struck - £60 for as many bricks as I wanted. These had to be cleaned and then moved the 2 miles to Talbot Green. Again the Lord showed his good hand when a local contractor loaned me a lorry to carry the bricks - but I had to drive it myself!! The Rev. Fidler, Principal of Barry Bible College, asked some of his students to help clean the bricks on their free half day on Saturdays. They were a great help. The next step had been taken. We now had a building plot, a plan, bricks, but no builder and no money for one either. Again a cry for help went out and a local builder, Bob Edwards, kindly marked out the site and some of the boys from the Sunday School helped me to dig the trenches for the footings. The coal board had said that because of mining underneath I would have to put reinforcement bars in the footings, more expense!
By this time people around saw me working and I had offers of help, but I'm afraid very little at that time was forthcoming. At last the footings were finished and we were ready for the bricklayers - but there weren't any. Once again Bob Edwards came along and set out the corners for me and although I had never laid a brick in my life I started out with the Lord's help to bring the building up to damp course level.
What about the money for all this?
Good question. We discovered that as we prayed so the money came in, little by little, and as we needed cement and sand so enough money came along to pay. What a difference there is in the prices then and now! How gracious the Lord was! I had some help from my sons, Paul and Peter. Apart from them, there was very little help and it was really hard work. There were times when nothing could be done because of my full-time employment - I could only work in the evenings and Saturdays. There was the Sunday School to look after too, although we did have a few faithful workers there. Remember, apart from my job, there were services to take at East Glamorgan hospital and an Old People's home to visit in Church Village. At last, the damp course level was reached and the real work of building began. I was still doing the brickwork on my own and after a while I discovered that I had forgotten to put a doorway in the left hand side so I had to pull a few bricks out again. We had a good laugh over this, as by now it was known as Ted's Folly by a few of the locals. The Lord had the last laugh though because it's still standing after 32 years and many precious souls have come into the kingdom. Yes, I did make mistakes and they can be seen even today.
The building was now up to window-sill height and ready for window frames. We had enough money for these and the concrete sills... Amen. At last we got a little help and Maurice Caughey was able to help with the bricklaying and along with some others we put in the window frames.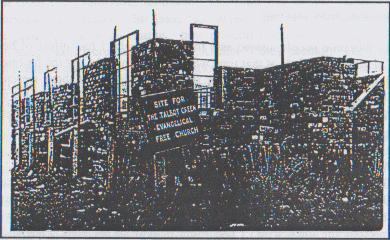 Often there were weeks and months when we were not able to do anything, sometimes due to lack of funds or help - the weather had a lot to do with it as well. My beloved wife was my mainstay all this time. Often when I felt like giving in it was her prayers along with others which enabled me to press on. At long last we reached roof level and I had my first accident. I was talking one evening to one of the helpers trying to get him to accept the Lord, went to climb down from the top of the roof and fell. I landed up in hospital for the weekend. My wrist was broken and my head needed a couple of stitches. I had a laugh over this as well, as the hospital I was in was the very place I had begun to take services on a Sunday afternoon. I had to get Sister's permission to go to the service in a wheelchair - little did she realise that I would be taking the service myself. Those hospital services were a great blessing and I had the joy of leading them for about 28 years. They still continue today.
Well, at last we were ready for the roof timbers. This work was impossible for me, so Bob Edwards was employed to get this done. It cost £61.2.11d for labour and £78.10.7d for the timber. Pen-y-bont Glazing put the glass in for the windows at a cost of £21.15.5d. Pontypridd Builders supplied the asbestos roofing for £121.12.1d and Pat Doyle kindly fitted the roof without pay whilst he lived on the site. We had difficulty with the two end apexes of the roof but Ron Martin who was an expert bricklayer came in to help.
The shell was up - now for the inside.
The plumbing was no trouble for me as this was my trade. The wooden floor came from an old dance floor in Llandaff, and the rest was new tongue-and-groove timber. How we came to have the second-hand timber is an interesting story. A police sergeant from Llantrisant, Sgt Trueman had seen an advert in the Echo. Off we went with Bob Edward's lorry and paid £18 for a lorryload of good timber (it was advertised for £20!!). Bro Truman throughout the building of Ebenezer had been a great blessing, though he did have a problem when the ceiling was being put up. The design was the work of Mr Thomas who came from The House oTrees, a remand home run by the Salvation Army. Capt. Markham allowed Mr Thomas to use the boys under his care to do the work. We of course, supplied them with plenty of tea and cakes. Fixing the floor was yet another back aching job although we did have some help. The baptistry was my own pride and joy, and afterwards I had the joy of making good use of it. Another accident - this time my ankle was broken which held us back for some weeks.
Thank the Lord we were still getting small gifts towards the work and so far we were out of debt. During one summer Dutch students who were at the Barry Bible College spent some weeks living in a caravan at the back of the church, and helped with the building. When they were not working on the church they went around the area spreading the gospel. Next on the list was the plastering, inside and out. This was done by Maurice Caughey and his father who came over from Belfast. They took this contract on for £100. Mr Williams who worked for the electricity company put in the mains. The water main came from the main road but the sewer would have been a very costly job - again the Lord undertook for this. The council had started to build houses next to the church so we waited until they were built and then joined on to the main sewer which was at the back of the church. This saved a great deal of money.
By now about two and a half years had gone by, and the church was coming on fine. Painting went ahead and Les White came to help when he could. Rev Fidler was always a great help to me.
One day he turned to me.
"Ted, what are you going to call this church?"
"I haven't even thought about it" I said.
"Well here's a good name" he said. "Beersheba" and we had a good laugh seeing as the bricks had come from the old brewery. Someone said to me one day as 1 was cleaning the bricks "fancy building a church with brewery bricks". Quick as a flash I answered "you've no need to worry... they've all been converted" which was true. Eventually we decided to call the church 'EBENEZER' which means "Hitherto bath the Lord helped us". Maurice's brother had rebuilt the pulpit, which came from an old Welsh chapel. It was all hands to the task of finishing and getting ready to open. In order to finish we had to borrow £150 - but this was soon paid back. Miss Stephens gave money to have the front built and on December 6th 1958 we opened the doors and sang "To God be the glory" outside. Rev Fidler and a host of Ministers from the surrounding district came to give their support. We couldn't get all the people in that day. What a blessing it was. I can't remember all the folk who helped but my sincere thanks goes to each one, some still with us, others who have gone on before. Without their help and prayers Ebenezer would never have been built.
The communion table was a gift from Princess Street Mission, Barry, some of the chairs come from Plassey Street, Penarth, also we had a lot of pews from a disused chapel in the Rhondda Valley. Some of these had to be shortened as they were too long.
"To God be the glory, great thing he has done" - and is still doing today.
I am afraid I cannot tell all the things that happened during those early years. The little gifts and the big ones, like finding £100 on the doormat of the house one morning. People stopping me in the street with 2/-...2/6...10/-...it all went to the building of Ebenezer. Contrary to what a lot of people thought, "Ebenezer" was never mine. It was built for the people of Talbot Green. Trustees were appointed - Miss Stephens, Rev F Baggs, along with the Fellowship of Independent Churches and myself.
The FIEC and I are the only remaining Trustees. I praise God for sending the following people into the church:-
Ken and Molly Stoneman
Dennis and Rose Graves
Bill and Heather Capper
As elders they have the full responsibility of the church. Since they have been there the Lord's work at Talbot Green has gone from strength to strength. May the Lord continue to bless them and the congregation. Aunty Mary and Uncle Ted, as we were known then, were only the instruments that God used to get Ebenezer going - the Glory is all His.
Sometime after the completion of the church I had a coronary and had to stay off work for five months. The doctors told my wife that I would never work again - how wrong they were! I can remember the words that my beloved Mary said to them. "Don't worry, I have had a promise from the Lord that Ted will be 'every whit whole' ". Well, here I am going on 79 years of age, still having so much to praise God for. Mary was taken home to be with the Lord in November 1981. If ever a man could say he had a wonderful wife and companion, it was me. At the time of writing this Ebenezer had just had a gospel outreach when the Lord greatly blessed them. In April 1991 they were making plans to spend over £100,000 on extending this building, a task which has now been completed.
Much more could be added if only I could recall all the details, but unfortunately no records were kept. My thanks go to all who had any part to play in this work, big or small, as they are too numerous to mention by name. Nevertheless, it was truly a united effort.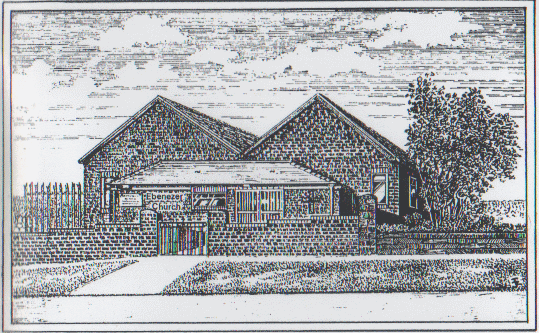 Ted Dickeson - August 1991
My thanks to my son-in-law Mike Southey for his help in compiling this story